Westinghouse for RCA

Radiola Senior Regenerative Receiver - Type RF

Radiola A.C. 2 Stage Audio Amplifier - Type AC

The very popular, single tube receiver, Aeriola Senior, was introduced in late 1921 for $65. By late 1922, it had been updated with a bakelite panel and mahogany box. Still later, in 1923, the name was changed to Radiola Senior (price was still $65.) A two-stage AF amplifier was an accessory to the Aeriola Sr. and also to the later Radiola Sr., also priced at $65. The 2-Stage Audio Amplifier added enough audio gain that a horn speaker could be used on most of the stronger signals, thus allowing the entire family to enjoy "the radio." The Aeriola and Radiola single tube, regenerative receivers perform quite well and are easy to operate requiring only a single 1.5vdc dry cell and a 22.5vdc B+ battery, a set of earphones and a suitable antenna and ground. The tube normally used is a WD-11, however an 864 or WE239A will work equally well but will require the use of a socket adapter (WE-239A is shown installed.) The AF Amplifier requires two WD-11 (or compatible substitutes) along with a set of dry cells for the filaments and a 60 to 90vdc B+ battery. The amplifier is shown with later type WD-11 tubes installed. The horn speaker was optional.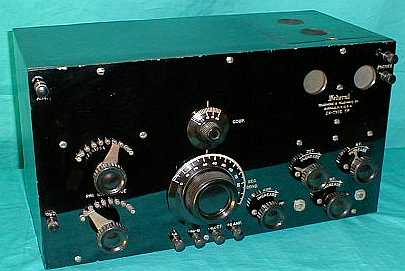 Federal Telephone and Telegraph Co.
DX Type-58
Federal built high quality receivers though some of their circuits and mechanical devices seem rather "Rube Goldberg" at times. The DX Type-58, from late 1922, was designed for the enthusiast and the metal cabinet seems to show this. Selling price was somewhat expensive for a four tube set - $123. Federal's workmanship was excellent, however their documentation is vague at best. It is interesting that Federal was so afraid of a RCA-Westinghouse law suit over the Regenerative Detector patent, they didn't tell owners (in their instruction manuals) that their radios could be set to regenerate and therefore significantly increase performance. Having "Regeneration" in print in an operator's manual would have been as good as an admission of guilt by Federal. Most owners figured out the adjustments anyway and the radios were fairly popular. By setting the "COUP" control to near "0" and advancing the "AMP" control to near the oscillation point, the DX Type-58 (and most other Federals) can be quite sensitive and selective receivers.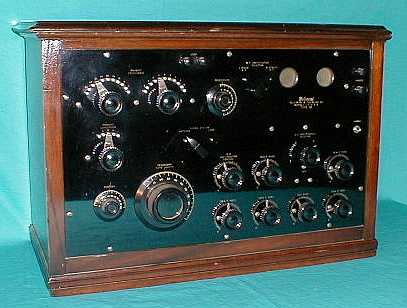 Federal Telephone & Telegraph Co.
Type 61
Introduced in the fall of 1923, the Type 61 was Federal's high-end receiver, selling for an incredible $223. The circuit used six tubes - three RF amplifiers with grid-bias controlled amplification running into the detector stage and two transformer coupled audio amplifiers. One could select either one RF stage or three RF stages, a loop antenna input or external antenna input. One could also select various audio amplification circuits and the second audio interstage transformer has a selectable ratio secondary. In all, sixteen different configurations could be set-up, making the Federal 61 one of the most versatile battery receivers of its day. Though the manual is vague about the regenerative capabilities of the Type 61 ("regeneration" is never mentioned), performance can be excellent if the "COUPLING" is kept near minimum and the "RF AMPLIFICATION CONTROL" set near the oscillation point.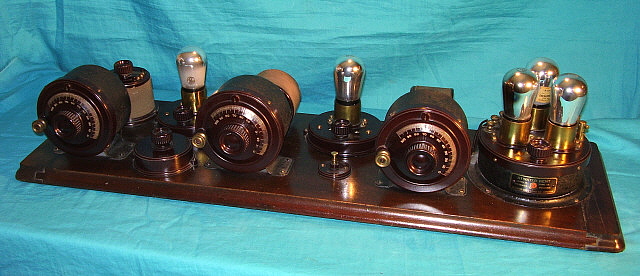 Atwater-Kent
Model 4560 - a.k.a. 10-B
Arthur Atwater-Kent made a fortune in the automotive ignition and lighting business but moved into radio parts manufacturing around 1922. Initially, A-K offered various kinds of radio parts to build your own receiver. By 1923, complete A-K radios were being offered. Shown is the 1924, Model 4560 (A-K 10-B) in standard finish, (black paint on the cans.) A-K believed his manufactured parts were beautiful (and so do a lot of collectors) so exposing them on open boards seemed the logical design for his receivers. Original selling price for the A-K breadboards was usually around $100. The TRF circuit provided good reception although the upper limit of the tuning was about 1200kc. Quality was top notch, as with all A-K receivers. There are many variations and different models of breadboard sets that were made between 1923 and 1925.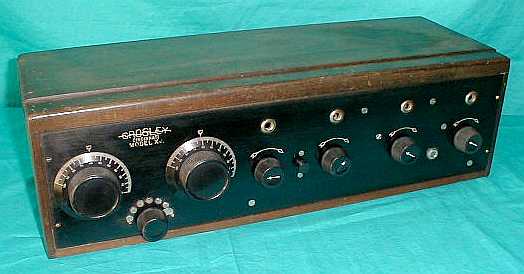 Crosley
Model XJ
Powel Crosley Jr. got into the radio business because his son wanted a crystal set. The prices were too expensive, in Crosley's opinion, so he bought a twenty-five cent booklet instead and built his first radio. Realizing how easy it would be to build and sell simple receivers, Crosley bought Precision Electric (in 1922) to begin his radio business and the following year formed Crosley Radio Corporation from Precision Electric. Crosley radios are noted for good performance with inexpensive parts and cabinets. By keeping manufacturing costs low, Crosley was able to offer his radios at very low prices resulting in high sales. His methods of manufacture eventually led to his becoming known as the "Henry Ford of Radio." Crosley went on to owning BC station WLW, owning the Cincinnati Red Legs baseball team, building small cars and many other endeavors. Shown is a 1924 Crosley XJ, a four tube TRF receiver.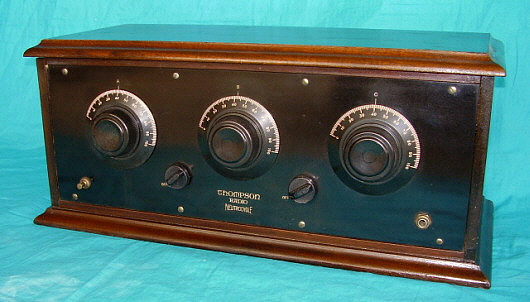 R. E. Thompson Mfg. Co.
The Thompson Grandette - V-50
Roy E. Thompson worked in the Department of Commerce, then for Kilbourne & Clark before buying Wireless Improvement Company around 1917. He started R. E. Thompson Mfg. Co. to obtain a Neutrodyne license from the Independent Radio Manufacturers. The "Independent Radio Manufacturers" was formed by eleven companies who wanted to develop a radio that could compete with the GE-RCA-Westinghouse owned Superheterodynes. They approached Louis Hazeltine for the design work and the Neutrodyne was born. It used capacitive feedback in the RF amplifiers to cancel the tube's interelectrode capacitance which then allowed for higher gain in that stage without oscillation instability. The Neutrodyne, when properly designed and manufactured was the best performing TRF radio receiver of the time. While it didn't always perform as well as a Superheterodyne, it certainly performed better than any other type of TRF receiver. Unfortunately for all other manufacturers, unless you were an original "Independent Radio Manufacturer", you couldn't legally build Neutrodynes (see "Grebe MU-1" below.)
The Thompson V-50 was introduced in October 1924. It is a well-built Neutrodyne using five tubes that consisted of two Neutrodyne RF amplifiers, Detector and two stages of audio amplification. Interestingly, the V-50 allows the option of either using the C- bias or not, all controlled by connecting or disconnecting a metal strap across the bias battery connection terminals. At the time, the only reason for using C- bias in the audio section was to prolong the life of the B+ batteries. Also, a "dummy plug" is installed in one of two chassis jacks marked "1" or "2" to select whether one or two audio stages are used for the output jack on the front panel. The Grandette V-50 styling is typical of the 1923-24 Neutrodynes, that is, black panels and three symmetrically mounted tuning dials. Inside the workmanship is first-class. Thompson also sold a matching horn speaker that featured a direct-driven conical diaphragm.
Thompson radios were high priced with the V-50 selling for $125 in 1924. Many other manufacturers had models out there at half the cost of Thompson's least expensive models. Those cheap radios weren't Neutrodynes but most radio consumers didn't know the difference and were only concerned with the price of their intended purchase. Take a look at the early Freshman Masterpiece as an example of a radio that looked convincingly like the Thompson V-50 but sold for only $60. To the radio-buying public, the Freshman was the better deal - until they got it home and found out how badly it performed. The V-50 would easily "bury" the Freshman in all areas of performance. Unfortunately, the new Freshman owners found out too late that they had been "taken." Thompson's sales were never as high as expected and the company was in constant debt, despite introducing new models. By the end of 1927, Thompson was out of business. Interestingly, Charlie Freshman was also about to go under since the days of selling "really cheap" radios was about to end with the introduction of lightsocket-powered radios - AC-operated in most areas, DC-operated in Edison-powered areas (rural areas still had to stick with battery operation.) Even a merger with Freed-Eisemann didn't help Charlie Freshman since the 1929 Stock Market Crash was right around the corner.
AMRAD
Neutrodyne
AMRAD was the American Radio and Research Corporation. Though founded with J. P. Morgan money, Morgan's son ran the company after his father's death in 1913. AMRAD never seemed to be on the "cutting edge" of radio and, despite a lot of money, AMRAD was always a "technologically backwards" company. It was just luck that they became one of the original members of the "Independent Radio Manufacturers" and was licensed to produce Hazeltine-Neutrodyne receivers in 1923. However, in an amazingly incompetent decision, AMRAD didn't offer their Neutrodyne receiver immediately and delayed the introduction until the Christmas season of 1924. The decision to delay their Neutrodyne cost AMRAD thousands of potential sales and the company lost a tremendous amount of money and respect. Within six months AMRAD was bankrupt.
The AMRAD Neutrodyne is somewhat different that the normal layout with one Neutrodyne RF amplifier, Detector and three stages of audio amplification. AMRAD also decided to build the receiver very compactly resulting in one of the smallest of the 1924 Neutrodyne radio receivers. The Neutrodyne was the last model AMRAD produced before the company went bankrupt (June 1925) and was subsequently purchased by Powel Crosley. By purchasing AMRAD, Crosley was then able to legally produce Neutrodyne radios.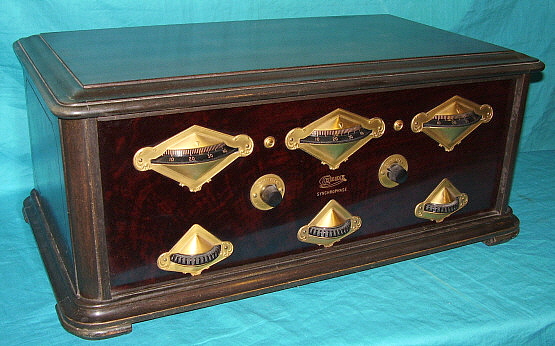 The earliest of the Synchrophase receivers with no chain-drive and no Tone Color control - from late 1924
A.H. Grebe & Company
"Synchrophase" MU-1
Arguably, the Grebe Synchrophase is best performing TRF AM Broadcast battery set that was made in the mid-twenties. The circuit was a Neutrodyne and Grebe was sued by Hazeltine (Independent Radio Manufacturers) because of it, though production of the MU-1 was never stopped and continued on, ultimately reaching over 150,000 radios. The MU-1 is very sensitive and will separate signals quite well due to its SLF (Straight-Line-Frequency) condensers and binocular coils. Grebe engineers considered the MU-1 Synchrophase's great performance was due more to the design and construction of the unique precision components used in the receiver rather than the Neutrodyne circuit.
The earliest Synchrophase receivers use a single filament control and a volume control that selects various resistors that are across the second audio interstage transformer primary. The small round escutcheons only had "INCREASE" embossed on them. Shortly after "VOLUME" and "FILAMENTS" were added to the "INCREASE" on the small round escutcheons. These early Synchrophases only tune up to 1300kc. Several improvements were added in a mid-1925 production upgrade but the most significant improvements were the ball-chain drive for single-dial tuning and the bandswitch that allowed increasing the upper end of the tuning range to 1900kc. The bandswitch was actuated by the center dial at either end of its rotation. The chain-drive could be disabled by loosening the knurled nut on top of each outer dial. This would not affect the operation of the bandswitch but allowed for more accurate tuning of the signals. Other mid-1925 additions or upgrades included a "TONE COLOR" control that was actually modified from the old "VOLUME" control. The "TONE COLOR" was now an adjustable resistive-capacitance device installed across the primary of the second audio interstage transformer. The "VOLUME" control was a modification of the old "FILAMENTS" control that changed the component into a dual filament control that separated the detector and AF filaments adjustment from the RF amplifier tubes adjustment, providing better response for receiver output. A mid-1926 upgrade added an improved audio interstage transformer that increased the "low frequency" response to improve the sound quality. Also part of the 1926 upgrade was changing the audio output tube to a UX-112A, requiring an increased B+ of +135vdc and an increase in the -C bias to the audio output tube to -9vdc. Additionally, the "TONE COLOR" control was changed to a selectable capacitance that shunted the 2AF audio grid to -C. Somewhat after the mid-1926 upgrade a cushioned detector socket was added and, shortly after that, all of the sockets were changed to the cushioned-type. There were no other upgrades after the mid-1926 changes and the MU-1 continued in production until around April-May of 1927.
Throughout production there were minor changes to the hardware and assembly, e.g., some sets are found with two lid props and some with just one. Additionally, the dial escutcheons were usually finished in lacquered gold but supposedly some MU-1s had gold-plated escutcheons. Front panels will be found with either linear faux graining or burl (mottled) faux graining. The instruction cards are found in various colors, cream with black letters, yellow with black letters and cream with red letters depending on the vintage of the set. To this day, Grebe's serializing of the Synchrophase remains a mystery. The serialized identification consists of four letters, e.g., "TFZH" or "BWDC", etc. - the letters were not chronologically arranged and defy any sort of decoding. It seems likely that the intent was to obfuscate the actual number of MU-1 receivers being built (at least by serial number inference) since that total quantity might have figured in a settlement in the pending Neutrodyne suit. Included with the purchase of a new Grebe MU-1 were "Dr. Mu" QSL cards that allowed users to send reception reports to broadcast stations they received on their MU-1 (in the hopes of receiving a return reply QSL card from the BC station.) "Dr. Mu" was an advertising character that Grebe created - a fictitious ancient Chinese philosopher-scientist. "Mu" refers to µ or mu, the gain of a vacuum tube.
There was also an MU-2 available that was a dry-cell tube version using six UV-199 tubes. Another option was a Battery Base that the Synchrophase would set on top of. The Battery Base was designed for the 1924 version of the Synchrophase that used four +22.5vdc B batteries. By mid-1925, two large +45vdc B batteries were now specified and these wouldn't fit into the Battery Base due to their height. Owners could still operate their 1925 set on the four +22.5vdc B batteries since the voltage requirements hadn't changed. When the 1926 version added the UX-112 tube with +135vdc B voltage the set now required three large +45vdc B batteries (beside two C batteries) and there was no way to fit all of the batteries in the Battery Base. However, by 1926, there were smaller +45vdc B batteries available that would fit into the base but their useful life was much shorter than the larger B batteries. Around this time, the Battery Base was rapidly loosing any desirability as an option. Due to the later battery requirements, most original Synchrophase and Battery Base combinations that turn up are the earlier 1924 to mid-1925 versions. Note that the cabinet feet must be removed from the Synchrophase cabinet in order for it to set flush into the Battery Box recessed area.
The court case regarding the Neutrodyne Patent infringement was heard in June, 1927. Grebe lost the case but was able to obtain a Neutrodyne license. However by this time the MU-1 was obsolete and Grebe production was moving to single-dial receivers, the Synchrophase AC-6 and later the AC operated AC-7. The Synchrophase MU-1 production had run from mid-1924 up to mid-1927 and an incredible 150,000 receivers had been produced during that time.
On an additional note: Some Synchrophases will be found with a greenish-gray color to the finish (as seen in the top photo.) This is a reaction that the original finish has with excessive exposure to sunlight (UV.) The original finish was medium walnut color (as seen in the lower photo.)
For the ultimate information source on the Grebe Synchrophase MU-1, including chronological listing of engineering-production upgrades, restoration hints and neutralizing the MU-1, go to "A Guide to the Synchrophase MU-1." Link below in Navigation Index.

photo above: This advertising label was installed inside the cabinet wall on the right side. This label advertises Grebe's Broadcast Station WAHG and also mentions the packet of Grebe QSL cards that were supplied with each receiver.

photo left: Grebe MU-1 CTPB with optional Battery Box. This MU-1 does not have the chain drive and has the "VOLUME" and "FILAMENTS" controls - no "TONE COLOR" control.
American Auto & Radio Mfg. Co.
American Beauty
Harry Schwartzberg was president of this small company located in Kansas City, Missouri. The American Beauty is typical of the 1925 to 1926 manufacturing style of TRF receivers built by companies that weren't members of the Independent Radio Manufacturers and therefore couldn't legally build neutrodynes. The circuit uses two standard TRF amplifiers, a Detector, two stages of RC coupled Audio Amplification and one stage of transformer coupled Audio Amplification - six tubes in all. The silk-screened panels became popular in the same time period and in many other models these panels became very elaborate works of art. The American Beauty artwork features a rose in each corner to honor its namesake.
HI-MU Radio Labs, Los Angeles
HI- MU
Of the thousand or so Radio Manufacturers that were around in the mid-twenties, only a small percentage of the companies were large, well-organized and well-run concerns. Most of the companies that show up in lists from the 1920s were single owner-engineer organizations that might have had some assemblers and other staff but the engineering was generally came "down from the top" and was usually at the amateur level. Additionally, most of these small companies operated with a very small budget and had no capital for either R & D or any kind of expansion. It's not surprising that with the introduction of "light socket-powered" radios in late-1927 most of these small companies vanished. They didn't have the technological ability or the capital to make the transition from battery-operated radios to the new "light socket-powered" radios and therefore went out of business or sold their assets to other larger radio companies.
Many small Los Angeles companies were building and selling radios in the twenties. HI-MU Radio Labs is an unknown company that probably only built a handful of radios. "Built by William Ferringer" is engraved on the front panel but it is unknown what position Ferringer held at HI-MU (maybe he was the only "employee.") This particular HI-MU is serial number 91 but that figure cannot reliably be used as a reference for the quantity actually built. The circuit is unusual in that only four tubes are used in such a physically large radio. An RF Amplifier, a Regenerative Detector and two Audio Amplifiers. The AF Amps use ballast resistors to automatically control filament voltage while the meter can be switched to monitor RF Amp or Detector voltage. Remler tuning condensers are used along with Remler dials. Probably dates from around 1925. HI-MU is typical of the small individual-operated companies that produced some radios in the mid-twenties but never progressed beyond the battery-operated radio.
Kemper Radio Laboratories

Model K-5-2

In 1927, Sennett Gilfillan and David Sarnoff met in New York to come to an agreement as to how radio manufacturing in the West would develop. Prior to this time, many small companies were building radios that technically violated many of the patents held by the "Radio Group." The arrangement that Gilfillan and RCA worked out was that in exchange for Gilfillan shutting down its operations in New York and Kansas City, they would be given exclusive licenses for radio manufacture in the eleven Western states. In 1927, this amounted to manufacture of all TRF radios and a few other key patents. In 1930, it included the Superheterodyne. After 1930, all radio manufacturing in the West had to go through Gilfillan.

The Kemper K-5-2 Portable is a five tube TRF receiver with the AF output using a special 3-V Van Horne tube. 10 batteries are required for power and, when not in use, the loop antenna stows in the removable back cover, (there is also a removable front cover that is not shown.) Kemper Radio Laboratories of Los Angeles eventually became Kemper Radio Company. This K-5-2 dates from about 1927. Performance is very good and sound quality is enhanced by the use of a built-in exponential horn.

Go to our section "Classic Pre-WWII Ham Gear" to see a complete 1933 two-tube receiver and four-tube transmitter, both with separate AC power supplies, all built into a Kemper K-5-2 cabinet - it's impressive. Navigation link at bottom of this page.
Crystal Sets
Beaver Laboratories

"Baby Grand"

Certainly one of the smallest radios built in the twenties, the Beaver Laboratories' Baby Grand is shown next to a quarter for size reference. This tiny crystal set dates from about 1922, or so. It is not certain if the Baby Grand was originally considered a "novelty" or a "real" crystal receiver.
Betta-tone Radio Co.

"Betta-tone"

These small crystal sets, built into a file-boxes, were popular in the mid-twenties. Construction was usually good and performance was satisfactory considering the low price they sold for. The Betta-tone is from about 1924. Like most of its contemporaries, the Betta-tone features a tapped coil with switched contact controls for tuning in stations and a "cat's whisker" to find a sensitive spot on the galena crystal for detecting the incoming signal. Earphones connect to the right binding posts while the aerial and ground connect the left binding posts.
Philmore Mfg. Co.

"Blackbird"

Philmore Mfg. Co. probably made more crystal sets, over a longer period of time, than any other manufacturer. Most of Philmore's line was fairly low quality with very low selling prices. The "Blackbird" uses a coil wound on a wooden form with a slider actuated by the tuning knob. The crystal detector has a glass cover over the "cat's whisker." The black wrinkle finish metal case gives the appearance of a substantial amount of circuitry but the few components used are all mounted on the back of the unfinished metal panel. Some examples of the "Blackbird" have a "crazed" painted front panel that usually appears to be gold in color. Later "Blackbirds" changed the metal case to heavy cardboard. Shown is an early Philmore from the late-twenties or early-thirties. By the 1940s, Philmore crystal sets had molded plastic cases.
Uncle Al's Radio Shop
"Miracle" Crystal Set No. 2
Uncle Al's Radio Shop built the best performing crystal sets. Using multiple coils with fairly loose coupling with variable condensers for sharp tuning, the resulting selectivity is a "Miracle." Uncle Al's Radio Shop is still in business in Oakland, California, (though they now sell and service TVs.) This Miracle Crystal Set No. 2 dates from about 1925. This working example of Uncle Al's design has received BC stations as far away as KNX in Los Angeles, California, (approximately 500 miles distance), quite a feat for a crystal set. Antenna was 75 feet long with earth ground, 'phones were Baldwin Type C.
CrystoFlex

It is doubtful that the CrystoFlex Company ever produced more than just a few radios. This model has all the indicators of a set assembled from purchased parts and then sold in the "neighborhood." Even the panel engraving was done by hand. The circuit uses two 201-A tubes with one tube reflexed as both RF and AF amplifier. The second tube is another AF amp and the detector is a galena crystal. Performance is adequate but tight coupling on the RF coils results in poor selectivity and the tuning range is narrow covering about 500kc up to 1000kc. The same circuit is shown in a 1923 LeFax Radio Handbook which would suggest that this model is from 1923-24.
Homemade Crystal Sets

Almost everyone has at one time or another built or used a "homemade" crystal set. They are easy to build, inexpensive and sometimes performance can be quite good. Through the twenties, homemade crystal sets abounded with popularity and several examples can still be found. Popular materials used for the homemade set's coil form were Quaker Oats, Alber's Wheat or almost any round cardboard container that was available. Some high-class builders would opt for a pre-constructed oak box, such as the example shown, though most builders were content with just a wooden board to mount the parts on. The crystal set shown is from about 1922.
Early AC Radios (1927-1929)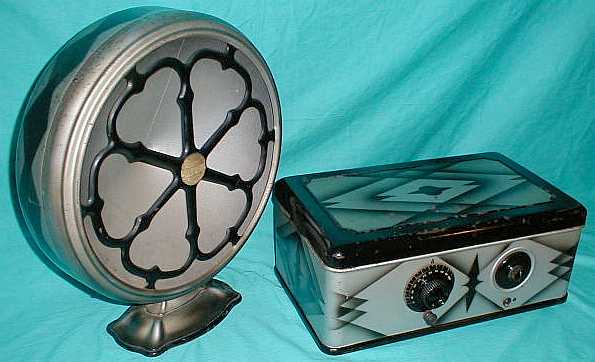 Atwater-Kent

Model 37 - "Modernistic Style"

The Model 37 was Atwater-Kent's first, self-contained, AC operated radio (the Model 36 had a separate, AC power pack.) Rugged construction and the TRF circuitry resulted in a reliable, good performing radio. Although nearly all of the Model 37 production was finished in a brown wrinkle finish called "Crystaline Enamel", sometime in the production year of 1928, a small number of Model 37 radios were finished in an "art deco" style. These Model 37s were dubbed "Modernistic Style" and featured a matching Type-E speaker. The silver and black decor was achieved by using stencils and a light spray painting technique - something like "air brushing." The finish was very thin and thus was subject to much wear. It's very common to find "Modernistic Style" cabinets with a lot of chips and scratches. Originally, the paint on the "Modernistic Style" was not a glossy finish but was more of a "matte finish" or "semi-gloss." There are two variations of the Type-E speaker. When the "Modernistic Style" matching speaker was fitted with the "thin wood" type of cone, the cone was painted flat black. When the "Modernistic Style" matching speaker was fitted with the thick embossed paper cone, the cone was painted silver. The Type-E speaker shown above has the paper cone and is all original with its proper silver paint. Estimated production is around 10,000 radios, which for Atwater-Kent was a "small run." Today, the "Modernistic Style" is rarely seen. Fortunately, most examples that turn up seem to have the matching Type-E speaker still with the radio - probably because it's pretty obvious that the two pieces went together. This particular "Modernistic Style" was originally purchased in San Francisco and for years made its home in San Francisco's "Chinatown."

Recently (2012,) the television show "American Restorers" featured a "Modernistic Style" radio as one of their restoration projects. Besides several factual errors being presented as expert knowledge, the restoration itself was inaccurate and incomplete. I suppose stating a few times that the radio was a 1926 model was just an oversight by the writers but even the most novice of radio collectors would know that the major introduction of AC-operated radios was announced in late-1927 and that most production examples are actually from 1928. The melting out of the black wax in the power supply box was accomplished with a propane torch - very funny. Most restorers would have used a small oven (like a "used" toaster oven) to slowly melt-out the wax (or maybe even used the old freezer trick.) Plastic wire used in the restoration was inexcusable since there are many sources for the correct original type wire. While the new paint job was stunning, it was finished off with several "clear coats" to make the end-result super glossy - beautiful, but not very accurate. The panning close-up shots of the cabinet revealed a missing Dial Index piece. These are easy to find (or replicate) - why was it left off? The vacant holes above the tuning dial should have been a clue that something was mounted there. Perhaps the most incredible part was the cost of the restoration - $1100 - Wow! Like most of what you see on television, "American Restorers" is an entertainment program and what is presented there should not be taken as expert advise or even correct information - especially when it comes to radios and radio restoration.

____________________________________________________________________

Donations to Radio Boulevard - Western Historic Radio Museum's Website

If you enjoy using Radio Boulevard - Western Historic Radio Museum's website as an information resource and have found our photos, our hard to find information or our restoration articles helpful, then please consider a donation to the WHRM website. A small donation will help with the expenses of website operation, which includes research, photographing and composition. WHRM was a real museum that was "Open-to-the-Public" from 1994 to 2012 - eighteen years of operation. WHRM will continue to provide its on-line information source with this website, which has been in operation since 1997.

Please use PayPal for sending a donation by clicking on the "Donate" Button below




_________________________________________________________

Website Navigation Index

- WHRM History ~ Nevada Radio History ~ The KOWL XMTR ~ Full Length Articles with Photos -

- Wireless Apparatus, 1920s Radio and Communications Equipment ~ Full Length Articles with Photos -

- Vintage Communications & Amateur Radio Equipment ~ Full Length Articles with Photos -

- Rebuilding Communications Equipment ~ Full Length Articles with Photos -

- WHRM Radio Photo Galleries with Text -

Entertainment Radios from 1922 to 1950

Communications Equipment from 1909 to 1959 - Commercial, Military & Amateur

Vintage Broadcast Equipment, RTTY & Telegraph Keys

- Vintage Radios, Ham Gear, Tubes & Misc. Items For Sale -

Radio Boulevard
Western Historic Radio Museum

Vintage Radio Communication Equipment Rebuilding & Restoration Articles,

Vintage Radio History and WHRM Radio Photo Galleries

1909 - 1959

This website created and maintained by: Henry Rogers - Radio Boulevard, Western Historic Radio Museum © 1997/2013

Key Words Antique Radio Vacuum Tubes Amateur Radio Ham Radio Museum Vibroplex Telegraph Keys Wireless Virginia City Horn Speakers Catalin Radio Repair Radio Restoration Radio Personalities Key Names Zenith Philco Scott McMurdo Silver Victor Nipper Atwater-Kent RCA Collins Hallicrafters National