For many months now, every few weeks I've been switching in and out of the operating position one of my two ART-13 transmitters because only one AC power supply was available. After I finished the restoration of the ART-13A "Basket Case," I didn't design and build a power supply for it. This situation needed to change. I decided that I didn't want to go the huge, immoveable type of power supply but that I would rather design a power supply that was small and lightweight. I wasn't concerned about maximum power output since I had the "Hommage a le Valve" power supply that easily allowed running 150 watts output from the transmitter. This new power supply would be like the dynamotor in that two lower voltage supplies would be connected in series to provide the +HV and I would shoot for about +1150vdc as the dynamotor supplied.

The original dynamotor circuit provided +400vdc for the +LV and +750vdc (+HV) in series with the +LV to achieve +1150vdc plate voltage. A barometric pressure switch separated the two supplies above 25,000 feet altitude to prevent arc-over by reducing the plate voltage to +750vdc. It is very easy to use this same approach in designing an AC operated power supply, excluding the barometric pressure switch, of course. The advantages are that the components used will be rated at lower voltages which reduces expense and generally makes locating them easier. One thing to keep in mind is that the +LV supply must be able to handle not only its own current requirements but must also be able to carry the current required by the +HV since the negative return for the +HV is connected to the +LV and then to chassis. This means that the +LV will have to be capable of about 500mA maximum current. The original dynamotor spec for the +LV is 750mA but this is the dynamotor capability not the actual +LV current requirement of the ART-13.

To handle the additional current the +LV transformers are actually two identical transformers that are connected in parallel. When operating transformers in this manner they must be exactly the same,... identical. Also, their connections must be "phased." This means that primary and the secondary windings must be connected so the AC applied and the AC output are in phase in each transformer. This is easy to test ahead of the building and mark the primary and secondary windings so there will be no confusion at assembly time. I only used the parallel transformers because I didn't have a single 400-0-400vac that had enough current capacity for the +LV requirement. If you can find a 500mA rated transformer then going with the single, although large, transformer is much easier. Same reason for the parallel chokes in the +LV supply.

There are some changes that have to be made in the general design that allows for the proper operation of the Plate Current meter since the -HV is connected to +LV. This is basically done by providing a bridge circuit using a 13.4 ohm series load from -HV (negative meter connection) to pin 1 (+LV) and a 6.7 ohm series load from pin 1 (+LV) to pin 9 of U7 (positive meter connection.) This duplicates the circuit used in the original dynamotor. The advantage to this bridge resistor set up is that the Plate Current meter reads accurately regardless of the actual level of +HV and +LV as long as the ratio of +HV to +LV remains approximately 2:1 (actually, the ratio of +750 to +400 is 1.87:1 but the bridge resistor ratio is 2:1.)

Since a minimum of +750vdc is used for +HV, the filter capacitors can be series-connected 100uf 450wvdc type electrolytics with 510K resistors across each cap to equalize the voltage drop across the series connections. Three capacitors are used resulting in a working voltage of about 1350vdc at a capacitance of about 33uf. Since we are using Pi-filtering, in an "unloaded" condition the +HV could soar to around +1035vdc.The extra "head-room" is protection in case the power supply is operated without a load. The same type of "head-room" is used in the +LV section, where the unloaded voltage could rise to around +600vdc. Using two series-connected 350wvdc electrolytics results in around +700vdc capability. In normal operation, the power supply design is such that the +HV and +LV are actuated with the PTT from the ART-13 which would also be in the powered-up condition thus presenting full load to both the +HV and +LV instantly. However, in some testing situations (or perhaps in an ART-13 failure mode) the power supply might be operated "lightly loaded" (or "unloaded") and this capacitor "hook-up" gives us the necessary head-room to survive this possibility without component damage to the power supply.

Solid-state microwave oven type diodes can be used in both supplies connected as full-wave rectifiers. These diodes are type NTE517 rated at 15kv PIV. These diodes are relatively expensive at about $6.00 each. The advantage of SS diodes is higher output voltage from the power supplies.

To take advantage of the smaller size and lighter weight possibilities, a 24vdc 13 amp Meanwell Switching Power Supply is used for the +28vdc requirements. This supply can be adjusted up to +27.0vdc maximum which will provide sufficient voltage to operate the filaments, relays and the Autotune. Though the Meanwell PS is RFI quite as a +27.0vdc source for the ART-13, it can cause interference in receivers unless the cable from the power supply to the ART-13 is fully shielded. I've used this model Meanwell on two different ART-13 power supplies and there is no interference in either the transmitter operation or in the receiver being used. The Meanwell PS is approximately 2.5" x 4" x 8" and weighs about 3 lbs. This is the same type of PS that we used when building "The Brute" ART-13 power supply. The Meanwell PS is generally available on eBay for about $25 plus shipping.

I decided to build the Dyna-Sim into a BC-348 cabinet. This cabinet had been destroyed by a former owner who drilled out all of the pop rivets that mount the bottom plate which has all of the engagement pins for the shock mount. Rubber feet were installed to take the place of the engagement pins, thus ruining the cabinet for proper use with a BC-348 and FT-154 shock mount. The back of the cabinet had have a wide rectangular opening cut to provide access to the fuses, line cord and the output terminal strip. A round hole was also cut to provide ventilation for the fan in the Meanwell PS. The front panel is made from type of black hard plastic called delrin. Three panel meters are provided to allow constant monitoring of the output voltages during operation. >>>
>>> As with the "Hommage a le Value" power supply, the only reason I used three meters is because I found three matching meters in the junk box. Setting up any DC current meter to act as a DC voltage reading meter is quite easy and only involves knowing the meter coil resistance, the meter full scale current requirement and then calculating a series dropping resistor based on the supply voltage to be measured versus the FS voltage scaling desired. For example, if the meter to be used is a 1mA FS DC Current meter and it is going to be used to measure the +400vdc and the FS DC voltage scaling desired is +1000vdc. The DCR of the meter coil in a 1MA FS meter is usually around 50 ohms (but measure it to be exact when actually doing your calculation.) Since the meter is 1mA FS, the total current through the series dropping resistor and the meter will be 1mA. The meter coil resistance is 50 ohms, so E = I/R indicates that the voltage drop across the meter at FS will be .00002vdc. FS DC voltage will be 1000vdc, so 1000 - .00002 = 999.99998 drop required in the series resistor. R=E/I so 999.99998/.001 = 999,999.98 ohms. You might as well use a 1 meg resistor. Dissipation equals I² x R = P or (.001 x .001) x 1,000,000 = 1.0 watt. 2X the dissipation is standard practice and allows the resistor to operate in the middle of its rating. So, a 1 meg ohm 2 watt resistor can be used and the 1mA DC Current meter will read accurately the +400vdc at .4mA on the scale. You can usually alter the actual meter scale so that "MILLIAMPS" is painted over and leave the "DC." If you have suitable "rub-on" lettering, you can add "VOLTS" to complete the meter transformation. To take advantage of the existing meter scale, the +HV meter actually indicates the +750vdc supply measured to -HV rather than measuring to chassis which would indicate +HV plus +LV, or the actual voltage applied to the 813 and two 811 plates. (I've been thinking lately that the +LV meter could be replaced with a +HV current meter. This would allow monitoring total +HV current and voltage simultaneously. Probably much more informative than monitoring the +LV that seldom changes. I'll update this section if I do the modification. - H.Rogers Apr 2013)
Two 24vdc relays are required for the PTT and Power On functions. The junk box turned up a very nice heavy-duty dual relay with 0.25" contacts. The problem was that the coils were for 115vac operation. Since these are solenoid coils, the operation doesn't really change whether AC or DC voltage is used. When using DCV on an ACV rated coil, you will have to greatly reduce the voltage. In testing the relay, it was found that good switching occurs with about 15vdc. A 150 ohm dropping resistor in series with the +27vdc supply provided around 18vdc to the relay and allowed fast, positive switching
A construction technique employed in the Dyna-Sim is the use of "component boards." The boards were made of 3/16" thick delrin and the terminals were made from 4-40FH brass screws secured with brass nuts. The use of brass allowed soldering directly to the terminal stud. Unfortunately, component boards require a lot of planning for proper layout and routing of the wiring (which is via a harness.) This prolongs the design phase and ends up with the project taking much longer to complete. If you're in a hurry then the use of standard tie points is easier and allows for quick construction. The upside of component boards is that the appearance of the wiring and construction looks like a professional job. See photos below of the finished Dyna-Sim.
+750vdc (+HV) - This is supplied by a 1475vac CT Plate transformer rated at .25A. Since no other windings are on the frame, this transformer is relatively small. Pi-filtered. Actual voltage is close to +900vdc under load. Total +HV is approximately +1300vdc.
+400vdc (+LV) - This is supplied by two identical parallel-connected 780vac CT Power Transformers and two identical parallel connected filter chokes. Actual voltage is around +440vdc under load. Total current available is 500mA. Pi-filtered.
+27.0vdc - This is provided by a Meanwell Switching Power Supply rated at 13A. Very small. Apparently not all Meanwell 24vdc power supply maximum voltage outputs are the same. Usually +26.5vdc is the specification for the maximum adjustment but this one adjusts to just over +27vdc. Fully shielded wires for RFI quite operation.
Relays, Fuses & Meters - Two 24vdc relays are used for PTT and Power On functions. The AC input and all outputs are fused. Three meters allow for constant monitoring of the voltages during operation.
Plate Current Meter Bridge Resistors - This is an original combination WW resistor from a junk DY-17A dynamotor base.
Pilot Lamps - High intensity LEDs with vintage-type jewels are used. Red = +HV, Yellow = +LV, Blue = ART-13 Pwr ON, Green = AC power ON to +28 supply and to +HV & +LV supplies.
Cabinet - Derelict BC-348 cabinet with black delrin front panel. The "cool" tags were donated by KØDWC and KE7MFW. Cabinet was painted with VHT Black Wrinkle Finish paint.
NOTE ON CABINET: Since the BC-348 cabinet is aluminum (and the Dyna-Sim panel is delrin) and the case of the ART-13 is aluminum, no protection is provided for magnetic coupling from the transformers in the power supply. When installing the power supply be sure it is not placed directly next to the right side of the ART-13. Since this is where the ART-13 Audio Module is, very likely magnetic coupling will occur and cause some 60Hz hum to appear on the signal in the VOICE mode.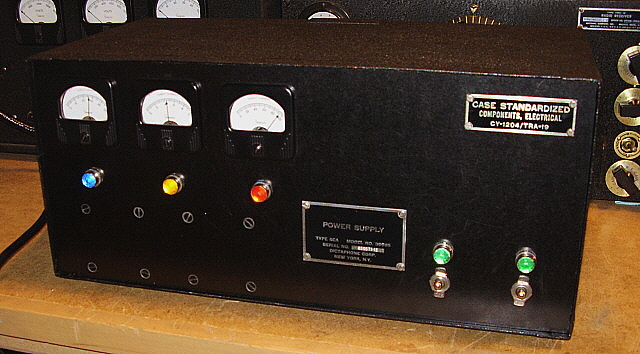 photo above: The Dyna-Sim ART-13 Power Supply in operation